Tips to Avoid Identity Theft
(Updated 1-6-2018)
Identity theft is a crime which affects millions of people from different parts of the globe. If you don't want to be a victim of identity theft, you should know the best safety measures to protect yourself from this growing crime.
There are several tips you may take for consideration when avoiding identity theft and some of them are as follows:
Tip #1: Consider an Identity Theft Protection Service
Numerous companies offer credit monitoring services to help anyone protect themselves from identity theft. Such services are available at reasonable rates. Depending on your preferences, you can choose any identity theft service provider that offers top notch solutions.
Tip #2: Keep All Your Personal Documents in a Safe
If you have important documents, it is always a wise idea to keep a personal safe for your home and a safety deposit box anywhere. You may utilize your safe at home for protecting items including social security card, passport, and birth certificate.
Tip #3: Protect Your Wallet or Purse at All Times
If you are buying purses, choose the ones that can be closed shut or zipped. Try not to make use of bags that some can easily reach into or see. Also, keep bags close to your body with tight grip all the time. Don't leave purses or wallets in the car and if possible, don't leave these exposed and never keep them in an obvious place.
Tip #4: Photocopy Every Content of Your Wallet
It is also a good idea to make copies of your ID cards, credit cards, and other personal documents that you usually keep in your wallet. In addition to that, keep records of all phone numbers to contact in case you have to order replacement items or close accounts.
Tip #5: Remove Yourself from Any Promotional Lists
If you don't want to end up with stolen identity, start removing yourself from promotional lists including pre-approved credit card and junk mail lists. This added clutter does not do any good. In fact, you just put yourself at risk of identity theft if the stranger gets their hands on pre-approved cards.
Tip #6: Examine All Your Bank Account Statements
If you want to ensure that your bank accounts are all safe, always examine all your bank account statements regularly. If you bank accounts have unauthorized charges, never hesitate to call your chosen bank immediately.
Tip #7: Never Reveal Personal Information to Unverified Sources
Regardless if it's over the internet or the phone, don't reveal personal information to any unverified sources. Never feel pressured to answer questions if you don't trust the source. Also, feel free to make a request for verifying information before giving any information.
Tip #8: Shred All Sensitive Documents Before Throwing Them Away
Before throwing your personal documents, consider shredding them first. Dumpster diving is said to be a common way of stealing personal information. Buy shredders for your home or office and ensure that you destroy any paperwork that contain personal details before you discard them. This includes credit, statements, mail, and even receipts.
Considering those tips above can help you avoid identity theft. Implementing them on your daily routine will allow you to save your personal information from this growing crime.
Download the PDF of this article here Tips to Avoid Identity Theft
My name is Jennifer Price and I started StopIdentityFraud.org because internet privacy & security are issues that are extremely important to me. As a private network security consultant, too often do I see the damage that can be caused by identity theft & fraud. It's my goal to help educate people about id theft and how to better protect themselves against it. Feel free to get in touch with me here or on any of my social media profiles.
Did you know that children are even more vulnerable than adults when it comes to identity theft? Thirty five times more likely in fact. This year alone, 1 in 10 children under the age of 18 will have their identity stolen, yet most parents rarely consider this potential threat.  The unblemished credit report of a child is a perfect target for identity thieves who can do an unlimited amount of damage with a new, fresh credit history.  This is why parents need to be more diligent about protecting the credit of their young children now.
Thieves take over the identity of a child early on, nurture it until they get a solid credit score. They then proceed to abuse and discard it. If this fraud is not discovered by the parents in a timely manner, the fraudulent use of the child's identity could mean the future loss of educational funding, denial of home and auto loans, as well as lost job opportunities. They will be left with no choice but to start off their adulthood at a serious financial disadvantage, because their credit had been destroyed years before they even needed it.
Child identity theft is not a new phenomenon, even in the technologically advanced world we live in today.  It's been going on for decades actually. As parents, it is your sole responsibility to protect the integrity of your kids credit rating. Here are some things that you can do to protect your child and keep their identities secure until they are old enough to manage it themselves.
Social Security Number Protection
Paperwork, whether at school, the doctor's office or for the extracurricular activities will often ask for social security number. Before you give the number of your child, confirm if it is really necessary. If not, do not give it. It's a rare occasion that anyone will truly need their SSN.  Question their reason for asking before just handing over the number. Refrain from carrying around the Social Security number or card of your child and destroy documents containing the number.
Educate Your Kids
Make sure that you also educate your kids regarding the importance of keeping their number as a secret and see to it that they know that they should not share their social security number, phone number or address on any social networking websites like Facebook, Twitter etc.  Oversharing of sensitive information is one of the easiest ways for identity thieves to get enough information to begin causing real credit damage . It doesn't take long and it can be difficult to detect the initial fraud, because most parents generally don't check their young child's credit report often…if ever.
Look for Warning Signs
Does your child suddenly receive unusual mail, like credit card applications? This is a solid sign that there is something wrong with your child's credit. When you notice something out of the ordinary like this it's time to do some investigating.. If it turns out that your child is a victim of identity theft, take the necessary steps right away to help limit and stop the fraud from continuing.
Consider Freezing Their Credit
Not all states allow parents to proactively freeze their children's credit before an identity theft incident has occurred.  However more states are beginning to allow this practice.  By freezing their credit, you prevent any creditor from accessing their credit report with TransUnion, Equifax or Experian.  Not will this prevent lines of credit being opened in the child's name, but it won't even let a credit inquiry be placed on their credit report.  You can check with each of the 3 credit bureaus about placing an extended credit freeze in your state.
Equifax 1-800-525-6285
Experian 1-888-397-3742
TransUnion [email protected]
Monitor the Credit of Your Child
To closely monitor your child's credit, a credit report is not really needed. In fact, your child may not even have a credit report at all. What you should do instead is to inquire at the three major credit bureaus and see if a report exists on your child. If there is an existing credit report, it is a sign that the identity of your child has been stolen and you need to contact the authorities right away. See to it that you do not order the credit report of your child because this will unnecessarily open the credit report on them.
Here at SIF, we are big proponents of credit monitoring services.  Not because they help prevent identity theft, because they in fact don't. Nothing can prevent it entirely. However, a quality credit monitoring plan will alert you if if your identity has been stolen.  Being alerted that fraud is taking place gives you the opportunity to investigate and stop it from becoming an even larger problem.  The best part is that companies like LifeLock and IdentityGuard have features that allow you to monitor your child's social security number, along with yours. The monthly subscription generally cost less than $25.00, so they are worth looking into.
Never Advertise the Name of Your Child
A lot of people have those cute family decals placed on the back of their cars showing the number of the people in the family, their genders and at times, even their names. When you do this, parents unsuspectingly give the criminals some valuable information. There are even some families that put up signs in the yards that congratulate their child for the high school graduation. Not only will criminals know the name of their child but at the same time, they will know his or her place of residence. It can also put the child at risk for more of serious crimes than just identity theft
Final Words
Protecting the identity of your child should be your number one responsibility as a parent. Once their identity has been stolen, there's no going back.  There's a good chance that their credit is going to be ruined way before they are old enough to need it. And this can be a very difficult obstacle to overcome as young adult. Start taking your child's identity as seriously as you would your own.  They'll thank you for it later.
Tim is a freelance journalist who writes on everything from personal finance to investing and credit. He spends his spare time traveling, paddle boarding and working with local charities. He has a B.A. in English Literature from Oklahoma State University and lives with his wife and children in Phoenix, Az.
I've talked a bit in the past about using credit freezes as a means of preventing identity theft.  Essentially, a credit freeze puts a lock down on access to your credit reports when you enable it with all 3 credit bureaus.  No new lines of credit can be opened because potential creditors can't run your credit.  Pretty simple concept right?  Unfortunately, most people don't consider placing a credit freeze until after they have had their identity stolen.  At this point, it's likely the damage has been done, and the credit freeze is nothing more than a band aid.  Same goes for your child's credit.
Until recently, most states haven't allowed parents to proactively freeze their child's credit to protect against identity theft damage.  This is changing however, as now more than 20 states will allow parents or guardians to freeze the credit of children under the age of 18 before they become victims of identity theft.  If you have young children, there is absolutely no reason NOT to lock down their credit reports.  If they're under 18 years old they cannot legally apply for a credit card, mortgage or other lines of credit, so there's no reason to have their credit reports accessible and left vulnerable to identity theft.  Washington state is the most recent to allow proactive credit freezes for minors.
A recent study by identity theft protection company, All Clear ID, shows roughly one in 10 children become the victims of identity theft, making them roughly 35 times more likely than adults to be victimized. A child's credit is attractive to thieves because it's often rarely checked, allowing the fraud to continue for an extended period of time, and, unlike adults, a child's credit is often a clean slate.  Read the full story here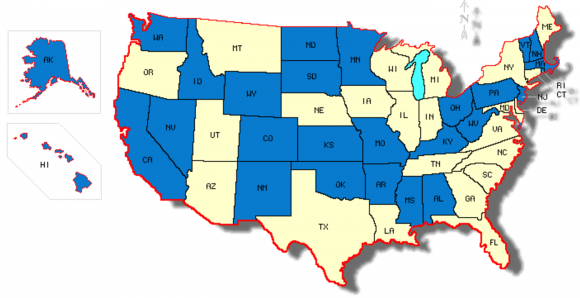 Most people are also unaware that they can enroll their children, as well as themselves in a credit monitoring plan that will send alerts if anyone is trying to use their social security number to open any new lines of credit.  This is another important proactive step that can mitigate potential identity theft damage.  Several of the major credit monitoring services that I recommend, including IdentityGuard & Lifelock, have monitoring plans that allow parents to include their children's social security numbers for monitoring.
If you live in one of the light colored states on the map above, consider freezing your child's credit soon, and get a credit monitoring plan in place for the entire family as a second layer of protection.
My name is Jennifer Price and I started StopIdentityFraud.org because internet privacy & security are issues that are extremely important to me. As a private network security consultant, too often do I see the damage that can be caused by identity theft & fraud. It's my goal to help educate people about id theft and how to better protect themselves against it. Feel free to get in touch with me here or on any of my social media profiles.